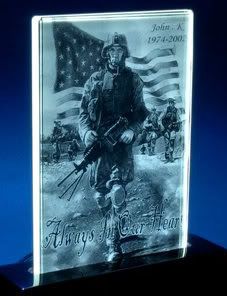 Photos are memories, important images of a time in our lives that we can always hold on to, forever engraved in the very fabric of our minds that can also be made into photo crystals from a sea of endless memories. It is saddening when we hear of someone who has lost a loved one due to war, however, as a nation we are accustomed to taking one day out of the year in showing our appreciation for all soldiers both in the past and presently with us today. Most Americans are in one way or another connected with at least one veteran who is either within their close family circle or simply a close friend.
Honor a Veteran
Often times, we think of veterans as the retired soldiers who march at parades in remembrance of a war in the not so distant past. We see how veterans hold on to their memories, perhaps memories of lost comrades or memories of better times spent with family and friends. As they march at these memorial parades we see them pay tribute to those who also kept this nation safe along their side. Remembering our war heroes and showing them how much we appreciate their dedication and devotion to their country can often times escape our minds. However, honoring them for their bravery is the least we can do.
Laser Engraved Crystal Photo
In our honest opinion, presenting a veteran with a
laser engraved crystal photo
is one of the most unique and most memorable ways to allow your soldier to see, each and every day, how much you truly appreciate their service and dedication.
At the very least let us remember that we owe the safety of our country and lives to the hard dedication and work put forth by those men and women in uniform who have committed themselves to doing so.