Whether you realize it or not, it's National Dog Day today! Of course, we at 3D Laser Gifts are well aware that our dog friends, who really love us all so much, deserve our recognition and gratitude on a daily basis. And on National Dog Day, we really want to pay a kind of tribute to Man's Best Friend—after all, humankind went through all the trouble to selectively breed, over thousands of years, the descendants of wild wolves to create the cutest, sweetest, and most human-loving animals we could. (Here's an interesting piece on National Geographic's website about dog domestication for your education and edification). Early man intentionally bred only those dogs who loved us best, so it's no mistake that dogs are not only Man's Best Friend, but also the longest-running experiment in eugenics in history. We made them that way! It is a great achievement, creating the perfect cross-species friendship as well as the myriad dog breeds that exist today.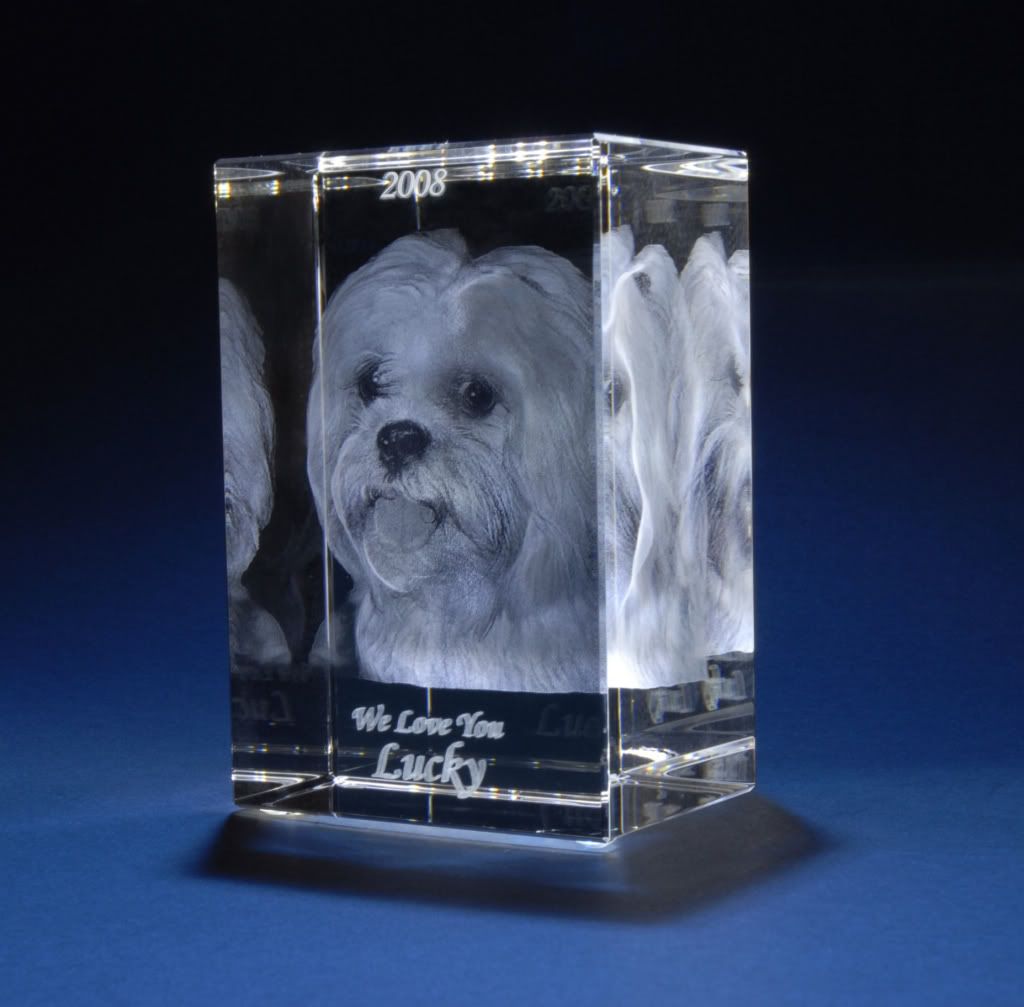 On National Dog Day, we want to pay a tribute to dogs. If you're thinking about gifts for dogs, gifts for dog owners, or dog-themed gifts for yourself, consider creating a customized 3D crystal portrait of your dog. It is a beautiful way to honor your pet and to show everyone how much you love them. Imagine, also, the look on your dog-lover friend's face when you unveil a custom laser-etched crystal picture cube with a 3D image of their furry friend grinning from inside the crystal.

In addition to a dog-themed photo crystal on National Dog Day, consider making a donation to your local animal shelter, whose volunteers work hard to save homeless pets. (It is also likely that they'd appreciate a 3d crystal dog portrait, since they devote so much time to dogs!)

You know, we're really in the business of spreading happiness. Call it what you will—3D crystal portraits, 3D laser etchings, crystal photo cubes, laser crystal engravings—but at the end of the day, YOU decide which memory, which photograph, to etch inside the 3D photo crystal. And that makes this a unique gift that no one else can give.


SPECIAL PROMOTION IN HONOR OF DOGS

Perhaps National Dog Day has inspired you to get a 3d dog photo crystal. Or perhaps you were moved by the words of this post. Regardless: From now until September 2nd, 2011, get 20% off any pet-themed* photo crystal with this secret promo code: NDOGDAY2608. Go to our website now, upload your favorite picture of your favorite dog, choose your options, and we'll etch the image of your dog into the crystal. For guidelines on how to get the best results, check out our post on How We Make 3D Laser Crystals.

And 20% off is nothing to "sniff" at, you lucky dog!
---